Specifications
Want to know everything about the New Suzuki Fronx? Get a comprehensive features list.
Explore
Different by Design
Anywhere you go, the Fronx expresses its unique style. The exterior combines a strong SUV character with coupe styling that appeals to the trendsetter in you.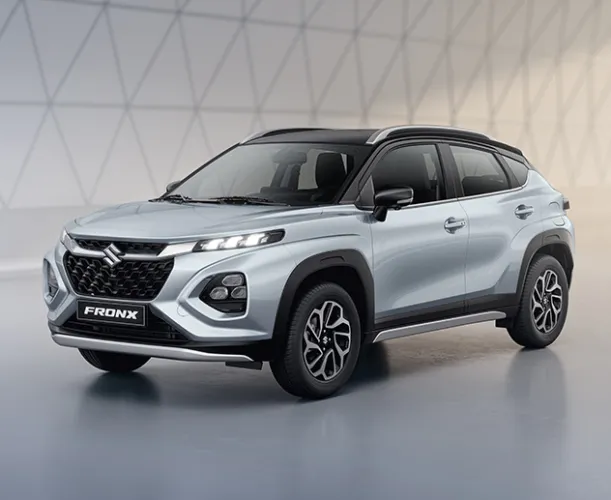 Front
The front features a solid grille and a split-design lamp.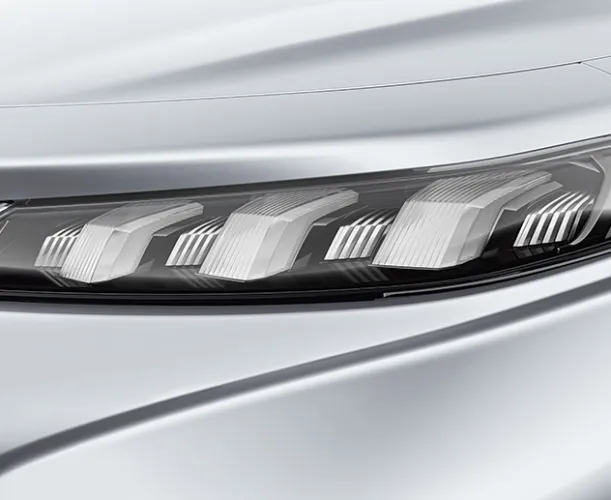 Signature lamps
A unique 3-point signature lamps.
Experience the Vibe Inside.
The moment you enter the Fronx you will notice the contrasting styling theme that's strong yet refined. The bold cabin design, along with the use of high-quality and premium materials give it a robust persona with a dash of sophistication.
Cabin design
The bold cabin design, along with the use of high-quality and premium materials give it a robust persona with a dash of sophistication.
Display audio
The 9-inch HD display audio with capacitive touchscreen* is highly functional and responsive. It supports both Apple CarPlay® and Android Auto™ smartphone connectivity via USB or Wi-Fi, as well as voice recognition, Bluetooth® music playback, and the display of various vehicle statuses.

*9 inch HD display for GLX and 7 inch WVGA display for GL.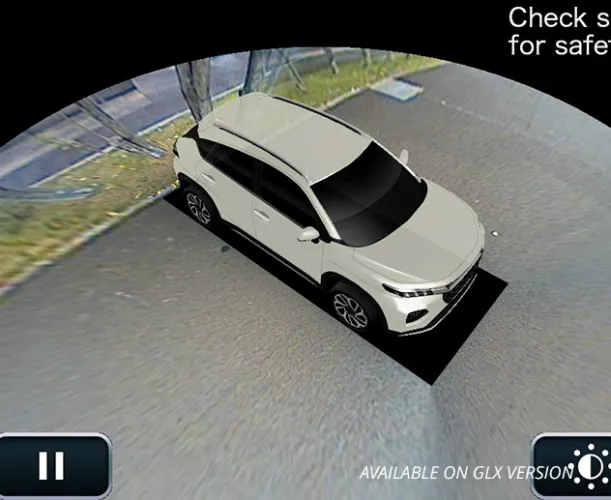 360 view camera
Parking is now easier with the Fronx's 360 view camera mounted at the front, side and rear to provide a real-time view of the area surrounding the vehicle. As the car manoeuvres into a parking space, the 360 view camera system shows nearby obstacles, helping avoid collision.

Note: GLX grade only.

Head-up display (HUD)
The combiner type head-up display keeps you focused on the road by projecting information of the instrument cluster and navigation onto the combiner.

Note: GLX grade only.
Drive with comfort and convenience
The Fronx stands out with its smartly designed interior. A spacious cabin ensures comfort for all while multiple storage amenities give you space for everyday items.
Luggage space
A luggage capacity of 304 litres* lets you take all you need, whether you are going for a weekend getaway or a spin in the city. What's more, a low opening height allows you to load and unload items with ease.

*Measured using the German Association of the Automotive Industry (VDA) method.

Cabin space and comfort
With the efficient use of space, the Fronx offers plenty of room for five adults along with ample legroom. Comfort is given no matter how long the drive is, even for rear passengers.
Multiple storage amenities
A host of storage spaces for smaller items allow you to travel conveniently.
Wireless charger and USB sockets
Stay connected throughout your drive by keeping your smartphone charged. A wireless charger for Qi* compatible smartphone is integrated into the front lower console tray. Also, USB sockets are located in the front and two at the back of the armrest for the rear seats.

*GLX grade only. Qi and Qi mark are trademarks of Wireless Power Consortium (WPC).

Rear AC vents
With AC vents fitted at the rear of the Fronx, comfort is assured throughout every drive for occupants at the back.
Stand Out Performance
Going across the city or on an outdoor road trip? The Fronx is equipped with features to make every mile memorable with excellent drive quality.
K15C DUALJET engine with SHVS mild hybrid
The 1.5-litre engine delivers high fuel efficiency, low emissions, strong output and a torquey performance. Excellent fuel efficiency is achieved through various features. Dual fuel injectors are placed close to the intake valves and the compression ratio is raised for efficient fuel combustion. The combustion temperatures are low, and pumping loss is reduced by the exhaust gas recirculation (EGR) system. Adoption of roller rocker arms for valve lifters reduce friction torque. In addition, intake and exhaust valve timing is optimized in the variable valve timing (VVT) system.
HEARTECT platform
The Fronx rests on Suzuki's HEARTECT platform, which delivers enhanced fundamental vehicle performance due to being light and highly rigid. Its smooth, curving form effectively disperses impact energy in the case of a collision, and its lighter weight ensures fuel efficiency.
Transmission
6-speed automatic transmission is available with the Fronx. A wide gear spread (first gear ratio or sixth gear ratio), acceleration performance at starting and fuel efficiency are optimised at high speeds. Those who prefer manual transmission can also select a smooth-shifting 5MT.
One-of-a-Kind Safety
With a host of safety features that help protect both occupants and pedestrians, the Fronx lets you take on the city roads with confidence.
Electronic Stability Program (ESP®)
In situations where you turn the steering wheel too sharply and/or the road is slippery, the ESP® automatically takes control of the engine torque and brakes to help you maintain directional control.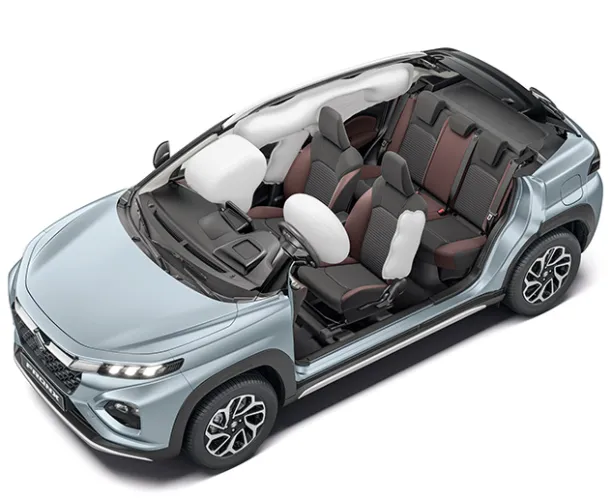 Airbags
The Fronx is equipped with dual front and side airbags, that help keep you and your co-passenger safe. In addition, curtain airbags are present for the driver and passengers in the front and rear, on both sides of the seat.
Total Effective Control Technology (TECT)
The Fronx's design centres around Suzuki's lightweight, impact-absorbing TECT concept, resulting in a structure that efficiently absorbs and disperses energy in the event of a collision.
Anti-lock braking system (ABS)
With ABS, stay in control even during an emergency braking situation. The technology keeps the tyres from locking up and enables the driver to maintain steering ability.
Ready to start?
Choose your Fronx