Design
The care and passion of the craftsmen who brought the CX-90's design elements to life can be felt, just as well as seen. A transferring of energy that empowers, uplifts and invigorates.
Inviting Elegance
Bold performance beneath a striking appearance makes the First-Ever Mazda CX-90 an exhilarating and poised family SUV. Its finely crafted exterior leaves a lasting impression wherever it goes.
Artisan Red
First-Ever Mazda CX-90 will be available in the dignified and stylish Artisan Red. This deep red hue perfectly highlights the strength and beauty of the vehicle in motion.
Powerful Presence
The strength and agility of First-Ever Mazda CX-90 are reflected in its form and function. A powerful and stately silhouette that's backed by a sharp, agile and responsive performance. Everything about First-Ever Mazda CX-90 is satisfying and considered.
Take A Closer Look
The CX-90 comes with the dynamic utility to support your daily needs, as well as new experiences and spontaneous passions to helps make the most of every day.
In tune with your world
Inside and out come together as one, with the First-Ever Mazda CX-90. An expansive panoramic sunroof brings light and natural beauty into your journey. Meanwhile an open and welcoming interior creates a space your family can call their own.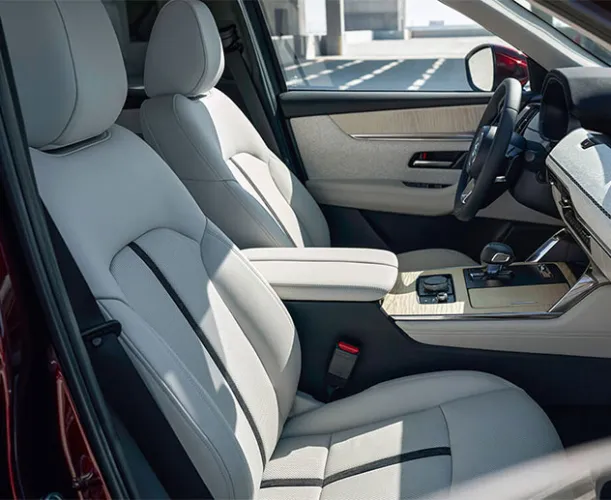 Elevated Comfort
Guided by Mazda's KODO design principle, First-Ever Mazda CX-90 elevates the cabin experience and offers each passenger first-class treatment. Cup holders, USB-C charging and HVAC vents are available across three spacious rows, turning long journeys into quality time with your family.
Open plans
First-Ever Mazda CX-90 gives you the freedom to do more with your family time. The third-row folds down to open an impressive 1163L of boot space, and a hands-free power tailgate reveals cargo room with a simple swing of your foot. Family escapes now become effortless.
Performance
The new Mazda CX-90 was crafted to create a connection between driver, passenger and every journey shared. A 3-roew SUV designed with precision to elevate every moment together.
Normal Mode | Balanced for everyday
Normal mode delivers comfortable ride for everyday driving. It does so by balancing fuel economy and driving performance, so you still enjoy First-Ever Mazda CX-90's power and rear-wheel drive biased all-wheel drive system. It also engages Mazda's unique Kinematic Posture Control (KPC) which stabilizes the vehicle with a feeling of greater road grip making passengers feel more at ease.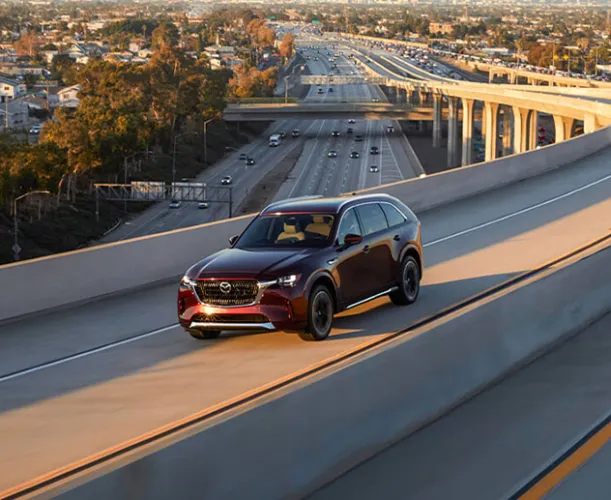 Sport Mode | Take your driving up a level
First-Ever Mazda CX-90's Sport mode unleashes the full potential of its high output engine and dynamic 8-speed automatic transmission. Whether it's the mild hybrid 3.3L inline 6-cyclinder turbo petrol powertrains, sport mode lets you experience each at their powerful best.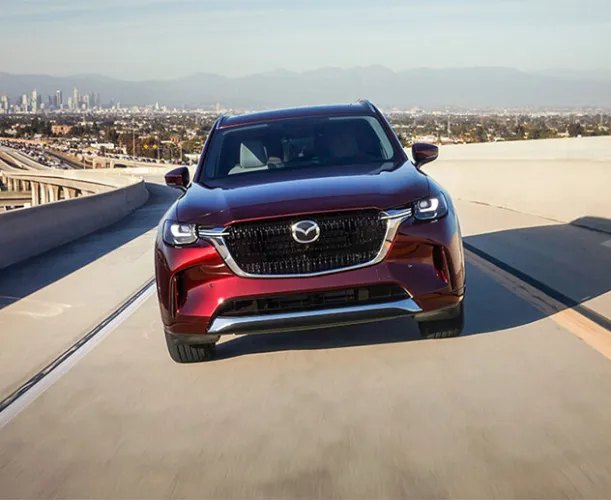 Off-road mode | Head off-road with confidence
Off-Road mode automatically optimizes the All-Wheel Drive (AWD) system and Traction Control System (TCS) to priorities function delivering better performance on unsurfaced gravel.
Intuitive Technology
Once enabled, our available Mazda Driver Personalized System recognizes the driver and adjusts the cockpit to put them at the center of a curated experience.
A personalized driving experience
Enter your height into the CX-90's infotainment system and Mazda's cutting-edge facial recognition technology automatically adjusts the car settings to your ideal driving position for optimum comfort and safety.
Set for every drive
Once you've set up the facial recognition driver technology, every time you get back in the driver's seat First-Ever Mazda CX-90 automatically recognises you and resets to your preferred driving preferences.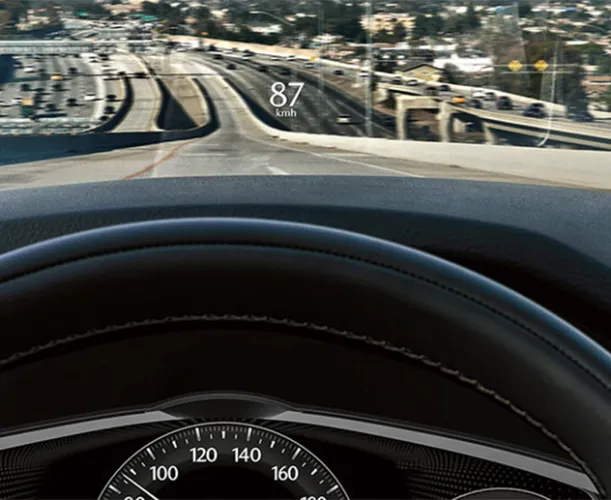 In tune with you
Mazda's driver technology also allows for individual settings of sound, volume of safety alerts and the ambient lighting to be personalised, for a surrounding audio experience designed around each driver.
Ready to start?
Choose a style for your Mazda CX-90